Today I have author P.T Michelle to share an excerpt from BRIGHTEST KIND OF DARKNESS.
Check out my review here.
---
According to Wikipedia, ANTICIPATION is: an emotion involving pleasure, excitement, and sometimes anxiety in considering some expected or longed-for good event.

Imagine if you dreamed your entire next day every night when you fell asleep. If everything was a repeat and nothing was ever a surprise, how do you think that would impact your daily life? But what if you met someone who never starred in your dreams, even though you interacted with him every day? Someone was had more layers than you could've imagined possible? Ahhh, with this person, you could actually experience anticipation--that kind of strong emotion involving pleasure, excitement, and sometimes anxiety in considering some expected or longed-for good event, right? :)

Meet Nara and Ethan from my book BRIGHTEST KIND OF DARKNESS. In the excerpt below, I thought I'd share a scene of anticipation. I hope you enjoy!
EXCERPT from BRIGHTEST KIND OF DARKNESS by P.T. Michelle

At one point, Ethan stopped and just stood there staring me down. Crouched and waiting, I locked my gaze on him, my adrenaline pumping. I got tired of waiting for him to decide which way he'd kick the soccer ball, so I took a small step to the left, then dove to the right, saving the ball he'd quickly kicked in the opposite direction I'd stepped.

I stood up with a wide grin. "Psyched you!"

Ethan nodded. "You'll be playing goalie full-time again soon."

His reminder that I could be riding the bench half the time rubbed salt in the wound, so I threw the ball his way and asked, "Why did you give up soccer?"

Stopping the ball in the air with his cleat, his gaze followed it to the ground. He stared at it for a couple of seconds, his jaw tense. Glancing up, he said in a gruff tone, "I quit playing when I was fifteen," right before he hammered the ball at me.

I tried to stop it, but the dew-coated ball shot past my gloves into my chest. The impact threw me back and pain splintered as I collapsed on the ground, coughing and wheezing.

I must've zoned out for a second, because when I opened my eyes, Ethan sat beside me. His arm was wrapped around my shoulders as he held me off the ground. "Nara, talk to me. Are you okay?"

I coughed once more. "Ugh, not the best way to find out you've been holding back on me."

Ethan's brows pushed together. "Sorry. I didn't mean to kick the ball that hard."

I gave a wobbly smile. He had a few freckles on his nose and a chicken pox scar next to his left eyebrow, both things I'd never noticed. "I've never caught air like that before, but I'll live."

"Jumping back to soften the blow was pretty smart."

I didn't jump back, I wanted to tell him, but the gentle sweeping brush of his thumb across the hollow of my throat distracted me. Tiny shivers shot through me when I realized his palm was resting on my chest. Holding my breath, I glanced down and saw the dark edge of a tattoo on his arm where his shirt's sleeve had ridden up slightly. Curved and intricately designed, it looked like some kind of tail that curled all the way around his forearm.

Lainey's comment about his scary drawings came back to me, along with that horror image I'd seen in the hall. Secrets swirled in Ethan's eyes, making me shudder with conflicting emotions of hesitation and curiosity.
Now to keep you anticipating! I'm offering an eBook copy of BRIGHTEST KIND OF DARKNESS to one lucky winner. All you have to do to be entered in the giveaway is follow Cassay's instructions on how to enter. Best of luck to you! :)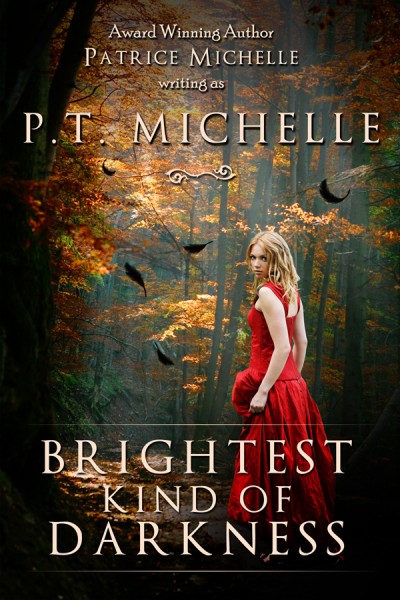 BRIGHTEST KIND OF DARKNESS is now available.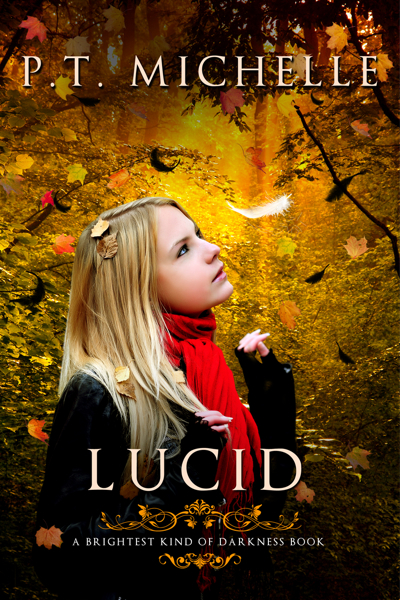 Coming Spring 2012: LUCID (BRIGHTEST KIND OF DARKNESS, Book 2)!
ABOUT P.T. MICHELLE
P.T. Michelle is the young adult pseudonym of Patrice Michelle, author of fifteen romance novels and novellas. When P.T. isn't writing, she can usually be found reading or taking pictures of landscapes, sunsets and anything beautiful or odd in nature.

LINKS: Website | Blog | Twitter | Facebook | Goodreads
---
Thank you P.T. This was one of my fav scenes between Lainey and Ethan.
Make sure you leave a meaningful comment for the grand prize!