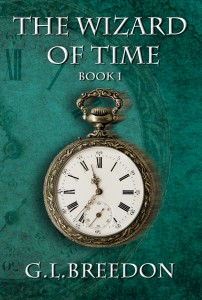 Gabriel Salvador has dreams about the future and his dreams always come true. When he dreams one night that he will drown, he knows upon waking it is only a matter of time before his dream becomes reality.
Plucked from the timeline of history at the moment of his death, Gabriel becomes an apprentice time mage and part of an elite team of wizards who travel throughout history to fight the War of Time and Magic.
Victorian London, the Aztec temples of 1487, the Greek island of Samos in 320 BCE, Scotland in the Middle Ages, and the battle fields of Alexander the Great are only some of the adventures in time that await thirteen-year-old Gabriel Salvador as he learns to become a time mage and joins the battle to protect the timeline of history in The Wizard of Time. Excerpt from G.L Breedon's website.
The Wizard of Time was a fantastic read. It was filled with suspense that kept you on the edge of your seat. The historical aspect of the novel wasn't boring and was quite interesting learning about the different places that Gabriel traveled through time. I liked learning about the other mages and their background as well as their talents. I think if I had to pick a favorite character from the group I would pick Teresa she made me laughed and kind of reminded me of myself. I'm still trying to decide between which of the Malignancy Mages on who is truly evil and who isn't. Some I have decided but others I haven't, I shall have to see what book 2 brings to the table.
The Rating:
4.5 out of 5
Read a sample chapter here: The Wizard of Time (Book 1)
Available now as an ebook at:
Available in print from: