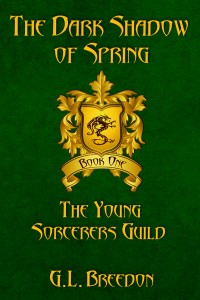 A dragon that foretells destinies, streets suddenly cluttered with thousands of dead birds, a plague of malevolent insects, ghosts arising in the town cemetery, demons haunting the woods of the White Forest — these are only some of the dangers that thirteen year old Alex Ravenstar and his friends in The Young Sorcerer's Guild must overcome in order save the secluded magical town of Runewood from an ancient soul-enslaving evil in The Dark Shadow of Spring.
After a nearly disastrous adventure to wake the local dragon from its hibernation in hopes that it will tell them their destinies, Alex and his friends accidentally encounter the dark force that was responsible for burning the magic out of the world beyond the Rune Valley thousands of years ago. Known as the Shadow Wraith, the evil force was cast from this world and imprisoned in another realm at the end of the war fought to stop it. Once again, the Shadow Wraith is trying to escape its prison to enslave the world and Alex and the Young Sorcerer's Guild are the only ones who can defeat it. Excerpt and cover from G.L's website.
I really enjoyed The Dark Shadow of Spring, it reminded me of the Percy Jackson series. I loved the action and suspense throughout the story it was used in all the right spots. I enjoyed the characters they were all relatable and interesting. G.L. Breedon's writing kept me intrigued with the story; I couldn't put the book down. I laughed lots throughout the novel the characters interaction with each other was great. Alex is so oblivious to certain things that as a girl you just roll your eyes for the poor kid. I am looking forward to see what adventures Summer's Cauldron will bring for the Guild.
The Rating:
5 out of 5
Where to buy: