I was lucky enough to get the opportunity to drive down to Calgary (Only 3 hrs better than the 14 hrs to Vancouver) to meet Kelley Armstrong and a bunch of other authors/publishers/panelists. I attended the event as a reader/blogger. When Words Collide is a reader and writer conference with panels from noon Friday till Sunday evening for only $50 (early bird registration)/ $65 (after early bird).
I attended several panels and learn a lot about writing. My brain felt like it was going to explode by the time the weekend was over. I was also very happy to have my bed back the hotel wasn't the nicest. But next year they have a new big location!
You don't know this but I have a book idea in my head (but just haven't sat down to write it) and this conference helped me think through different scenarios and what I should or shouldn't do. If you are an aspiring writer you totally need to go check out When Words Collide in 2013. I will definitely attended a future conferences.
On Friday I sat in on a panel titled "What's New and Hot in YA/MG fiction?"
It was interesting to hear where everyone thought the next big genre was going to be. Epic Fantasy, Sci Fi and more dystopian were mentioned. One of the panel speakers was Sean Cummings author of Poltergeeks. Just listening to him talk about his novel has made me excited for the release in October.
Here is the cover and synopsis for Poltergeeks taken from Chapters website: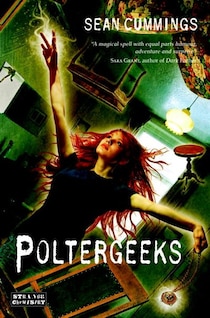 15-year-old Julie Richardson is about to learn that being the daughter of a witch isn't all it's cracked up to be.
When she and her best friend and uber-geek, Marcus, witness an elderly lady jettisoned out the front door of her home, it's pretty obvious to Julie there's a supernatural connection. The house is occupied by a poltergeist and in order to reclaim it, Julie's going to have to exorcise the spirit. Of course, she'll need her mother's help and what teenager in their right mind wants that? Surely she can do this on her own - right...?
But there's a whisper of menace behind increasing levels of poltergeist activity all over town. After a large-scale
paranormal assault on Julie's high school, her mother falls victim to Endless Night - a dark spell that rips her mom's
soul from her mortal body. Now it's a race against time to find out who is responsible or Julie won't just lose her
mother's soul, she'll lose her mother's life
Saturday, I was lucky enough to be apart of a casual discussion with Kelley Armstrong. I learned alot about her novels (which I love) and her writing process/publishing. Kelley is super nice and down to earth. I went to several panels during the day such as "Paranormal Romance vs Urban Fantasy" where I learned the difference between the genres. "Sex in Fiction" was a very interesting panel to go to. Poor 50 Shades got slammed lol (Twilight also got slammed a bunch during the weekend) One piece of advice I took from the panel was "Don't write a sex scene if it doesn't allow the characters personality to grow or if you are sitting there giggling while writing the sex scene – you probably shouldn't be writing it"
Oh I almost forgot on Thursday night we got to listen to the main guests talk about a topic of their choice and Kelley did a Literary vs Genre speech and incorporated The Hunger Games into it. It was the funniest speech I have ever heard! It may have been recorded so once the podcasts are up I will post a link to them.
Sunday, I got to be apart of a casual discussion with Adrienne Kerr who is an editor with Penguin Canada. Adrienne was super nice and share a lot of information in regards to the publishing industry and how a manuscript goes through the editor process and what an editors job entails. From Adrienne talking she works her butt off but loves the work so she doesn't mind.
I also got to sit in on a few Blogging/Social Media panels. Angela from The Bookshelf Muse had tons of helpful information in regards to Do's and Don'ts of social media and how to use a blog effectively. I learned so much from her and I thank her so much for coming to WWC and doing these panels.
There was also a local author Kimberly Donn author of Cargon: Honour & Privilege that I learned a lot of social media tips from as well as she was one of the panelists for the "Sex in Fiction" panel that had provided helpful information in regards to adding sex into a novel.
Here is a synopsis of Cargon: Honour & Privilege taken from Kimberly's website.
Lives are won, lost and traded on the three-tiered Cargon boards.
Honour & Privilege follows Eve the Server as she is tested and found deserving of a position among the elite. Her worst nightmare, a bullying Prince, continues to dog her after being raised.
We ate at some amazing restaurants featured on The Food Network's You Gotta Eat Here. My stepdad had a hot dog that had mac and cheese with bacon on top. It looking amazing good!
Overall, it was a fun weekend filled with learning, book buying and book signings (I now have all my Otherworld Books signed by Kelley
)
And if you're a writer you should attend next year. Your $50.00 is well spent for 2.5 days of panels that will make your brain explode with information. Bring a notebook!!!