I hope everyone had an awesome New Years eve. We had fun playing poker with friends and family. I won my first game! WOOT WOOT!
2012 was an up and down year for me.
The Downs:
Finding out my mom had breast cancer – This sucked. But she is doing awesome! She is barely getting any of the side effects of chemo so that's awesome.
Not passing my first PACE level national exam. This stunk even if I didn't expect to pass.
The cancellation of The Secret Circle. Seriously CW you have 2 chances left with me you blow those and we are SO DONE! I can't believe you kept Beauty and the Beast over TSC!!! UGH /end rant
The Ups:
Getting to pick out the colors for my condo. I has a blast picking colors it was so much fun!
Getting to meet the Edmonton Book Bloggers. These ladies are super awesome and I can't wait for our friendships to grow. I'll finally have more girl friends! HAHA the BF will be happy.
Having the Smart Chicks Kick It Tour come to EDMONTON!!! OMG this is probably my 2nd best moment of 2012. It was amazing having a group of amazing authors stop in little ole Edmonton. I hope more authors head this way. We aren't all rednecks we can read
hehe
Going to When Words Collide in Calgary. It was an awesome experience and I learned a lot about writing and publishing. I also got to attend a "Koffee Klatch" with Kelley Armstrong where we going to have questions in a more casual setting. I also won a 13 t-shirt here which is my new favorite lounging shirt.
And last but not least the best moment of 2012 was on Christmas Eve when my BF of 6 years gave me this:
Yep It's an engagement ring!!!! EEEPPPP!!! I was totally not expecting it. I was in complete shock and besides nodding my head to say yes I don't think I actually spoke for 15 min I was in so much shock! We are looking at October 2013 for a date.

So I apologize in advance if you get more wedding related posts than book posts.
I know there was some more downs in 2012 but I just can't think of them and you don't wanna know the bads you want the good!
Looking Forward to 2013:
In Feb/March we move into our condo. Yep a year and a half has FLOWN by and we are within 3 mths of moving. I can't believe it and I'm stressing over that a little bit.
This summer I will be taking my final course for my degree and then I only have 3 classes left for my CGA. YAY! Almost done with school!!!
October – I'll become a married woman.
I am calling 2013 the "Year of Change"
My New Years Resolutions:
I signed up for my 1st challenge ever!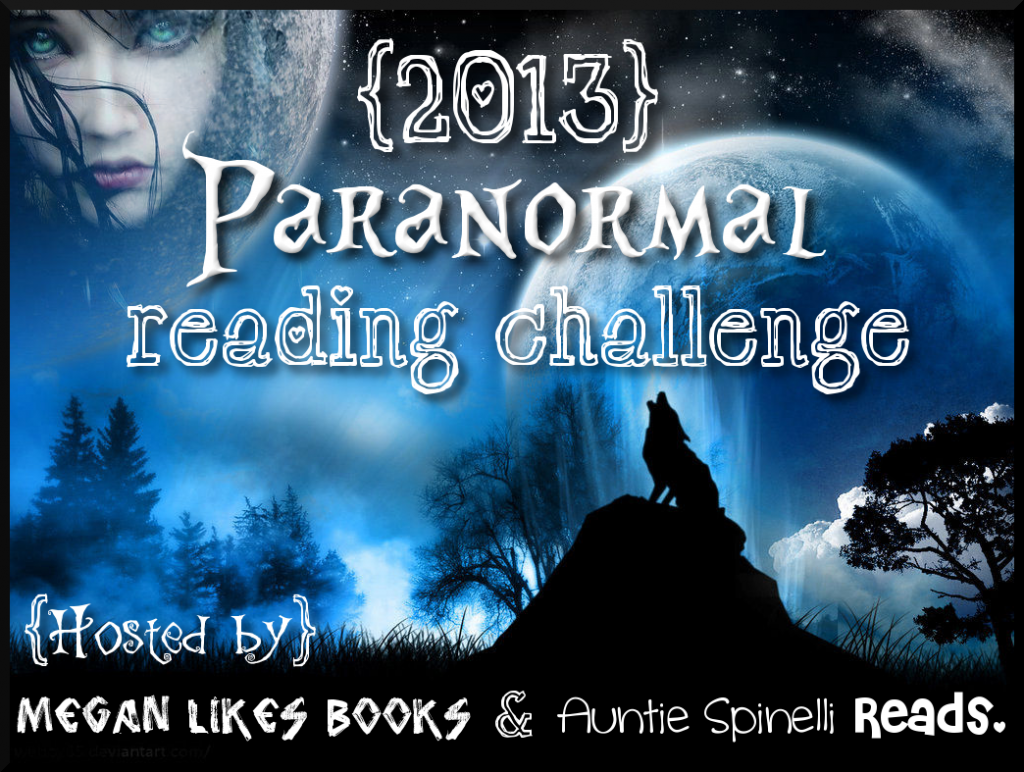 This will force me to post at least 1 review a month. I don't have to have my blog die while I'm busy with real life because its going to be a busy year 0and I hope everyone understands that). But I hope to at least give you 1 review a month.
Lose those last 10 lbs.! Last January 10 I wanted to lose a total of 30 lbs. well I did well until April (tax season) and fell off the work out train and Weight Watchers train. Well this year I have a goal that will actually happen. I want to be skinny when I get married. Since Jan 10 I lost a total of 20 lbs. and about 20 inches. So I did well but I could do better.
Try to enjoy life and not stress out as much over real life and blogging. I need to remember that blogging is a hobbies and if I don't have the time I don't stress over it. (Yes I feel bad like I'm letting everyone down
)
Attempt to reading some of the e-books that indie authors provided me for review but I wasn't able to meet that commitment due to taking care of my mom and family during her breast cancer battle. I swear to read at least 1 of these novels every 2 months. I can take time out of my bought list to do this. I want to do this because I said I will.
Learn that it is okay to say "no" to a review copy and not feel guilty. This I need to work on. (even though I have a note saying I'm not accepting review copies – I'm still getting emails and feel awful for not accepting. I will work on my guilt.
Best of 2012:
Best Book:
Origin by Jessica Khoury – I LOVED this one it brought my out of my reading slump and made me actually want to read!
Best of the Best:
The Otherworld Series by Kelley Armstrong / Anything by Kelley. I read majority of Kelley's adult series this year and I freaking love it so much that all I want to do is read Kelley Armstrong now………NEED MORE!!!
Booked that Surprised me the most:
Fire Baptized by Kenya Wright. These was a review novel (review is to come – I swear its written in draft just need revisions). I wasn't feeling the story and kept putting it off and when I did read it I was done in 4 hrs.
Best Series Finale:
I completed some series this year and I think my favorite ender would be:
Hidden by Sophie Jordan
Best Movie of 2012:
The Hobbit. No questions asked.
Best Song of 2012:
No Light, No Light by Florence + The Machine. I freaking love love love this song. I could have it on repeat all day long. Haven't heard it take a listen:
Seriously awesome right? Oh yes.
Best New TV Show:
Revolution – If your not watching this your freaking crazy! Seriously go watch it.
So 2013 is going to be busy in my life. I may add more personal content to the blog (I hope you won't mind)
Any big plans for 2013? What was your favorite read of 2012?
Cheers!