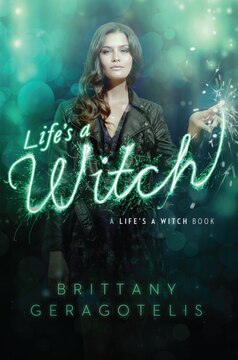 ---
Details:
Published: July 9, 2013
Publisher: Simon & Schuster Books for Young Readers
Source: ARC From S&S Canada. Thanks to Michelle!
The Rating:
3 out of 5
---
The book that started it all-with more than 18 million reads on Wattpad-revamped and rebooted!
This witch lives a charmed life.
Hadley's the envy of every girl-and the desire of every guy. But being at the top of the social pyramid has its drawbacks. Hadley's always kept her frenemies close and her secrets closer-one big secret in particular. Her key to magically having it all is that she's an actual witch.
As a descendant of the first woman executed in the Salem Witch Trials, Hadley understands the consequences if her secret gets out. The only ones who know about her powers are members of her coven-other kids and parents who, like Hadley's own family, have magic in their blood. But there's no way to cover up an attack that causes every adult in the coven to vanish. All the evidence points to an age-old rival coven as the culprit. Now it's up to Hadley to lead the young witches against the Parrishables and to rescue their missing parents. At the same time, she's caught up in her feelings for a mysterious guy named Asher, who has plenty of secrets of his own. With everything at stake, can Hadley trust her magic-and her heart? Excerpt and book cover from Chapters
Life's a Witch is a bit better than What the Spell. I would suggest reading LAW before WTS as I found out that WTS is actually the prequel (not to be confused with the 1st book of the series) ruins Asher in LAW for me anyways. Asher seems like 2 completely different people in each of the novels and it confused me. LAW has more paranormal aspects in it over WTS which I liked. I did enjoy it more but it took about 150 pages for me to get really into it. The author really likes the popular girls I don't really get it but Hadley in this case is the popular and always talks about being in control. I also didn't get the love story line throughout the story how does seeing each twice and making out make you boyfriend-girlfriend and how does making out twice within a few days mean you love that person?? This was extremely unrealistic. Overall, this series wasn't my favorite and I probably wouldn't recommend it to anyone unless they enjoy the on goings of a popular girl teen drama. I personally don't think I will be reading the final book is the series because it sounds like it will be the battle of "Who is the more popular girl that deserves the guy" and I am just too old to get enjoyment out of that sadly.