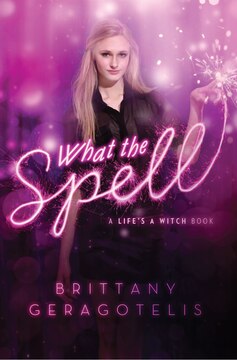 ---
Details:
Published: January 29, 2013
Publisher: Simon & Schuster Books for Young Readers
Source: Bought e-book
The Rating:
3 out of 5
---
A teenage witch juggles popularity and romance while keeping her powers a secret in this spellbinding debut.
Almost-sixteen-year-old Brooklyn feels invisible, but she desperately wants to be pretty, to be popular, to be adored by a cute guy. Luckily for her, she's a witch about to come of age-so she's only a few spells away from making it all happen.
On her milestone birthday, Brooklyn's conservative parents finally unbind her powers, which include the ability to magically match couples with a love spell. Brooklyn uses her special skills to get a makeover, new friends, and the attention of her crush, Asher. But the popular clique Brooklyn wants to infiltrate puts her in the same precarious position as her Salem ancestors: If she's found out, she could be vilified-and lose Asher in the process. Can she make the most of her magic, or will she be luckless and loveless? Be careful what you witch for! Excerpt from Chapters
****MAY CONTAIN SPOILERS****
I gave What the Spell a 3 instead of a 2 because I feel that a 2 would be too harsh for the novel because it wasn't a book for me but I know that others would like it, for example my sister. The main reason I didn't care for this book was because I found Brooklyn to be extremely annoying, self-centered and childish. She has this super-hot boyfriend and treats him like crap all because she wants to be in the popular group. They are horrible awful people that make her do things that any good hearted person wouldn't do. I feel that Brooklyn is good-hearted deep down but her NEED for popularity is a bit much. I found this to be more of a teen drama novel than paranormal. I'm not for teen dramas or the popular kids so I found it to be really annoying but I know my sister would have enjoyed it because she likes novels like that. The writing was well done in the fact that Brittany made me hate Brooklyn though I'm sure that wasn't her intended purpose but she made me have feelings which is a good thing in my books. I would suggest this novel to teens/adults that like teen drama type books and don't mind childish behavior.